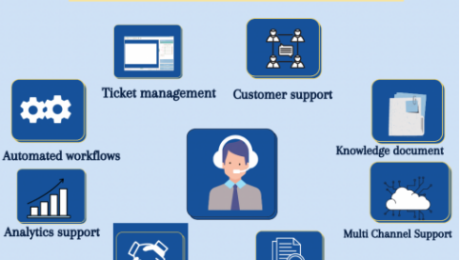 Help desk Outsourcing services
Helpdesk Outsourcing services make the tasks easier and more efficient. Everyone wants to succeed in business success. But to turn the same into reality, to proceed in a way that guarantees longevity in today's competitive picture. Catering to fulfill the needs of the customers and business Helpdesk Outsourcing services can assist efficiently. This enables your businesses to deliver their services without any technical-related issues and reach out to the workforce with ease.
Since end-users are scattered globally and are present in different places around the world. Managing the work becomes a challenging task for entrepreneurs. The immediate need is to resolve the issues and attended to them immediately to improve customer satisfaction. Our IT help desk team comprises technical experts who can offer support to organizations. It assists them to solve software issues within the timeline, improve efficiency and enhance productivity while safeguarding data with all possible security measures. Helpdesk outsourcing services ensure to streamline the work process, smoothen the workflow, and improve business efficiency.
Due to the lack of expertise, many times, those companies meet problems related to ticket backlogs, reopening of tickets, customer defection, and many more. These challenges are to be resolved urgently to retain the customer base and add business credibility. With GreenItco help desk service, weed out technical issues from the root and make your business more flexible & efficient.
Helpdesk Outsourcing Services role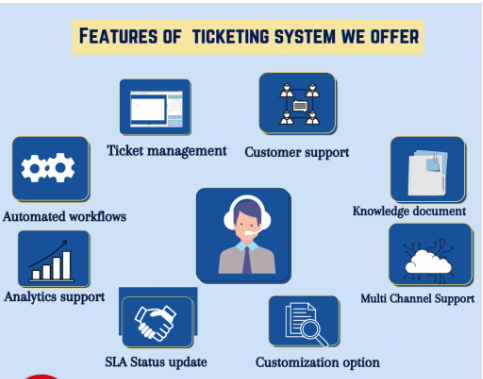 Indeed, your business needs the assistance of helpdesk outsourcing for its success & development. But to make this happen in reality, it is important to deploy the system that ensures longevity and be in competition in business ahead. Outsourcing helpdesk service offers utmost customer satisfaction and initiates business growth.
Solving technical errors without having expertise & exact info is just like moving out of the track. A better option is to deploy a system that can find errors and rectify them errors and resolve them within the timeline.
Outsourcing helpdesk services can handle multi-tasks and therefore allows IT, teams, to concentrate on strategic operations and revenue-generating ideas, instead of support fires. This allows the professionals to handle customer issues using the latest technology to provide helpdesk support solutions more efficiently and flexibly globally.
If the IT help desk services of your company or organization are expanding for business growth. It has probably started out serving a very specific purpose and managing the workforce at different places at the same time. So, the growing technical needs and additional hires can be led to issues. Here is the role of expansive IT help desk outsourcing services plays for businesses to make them more effective, flexible, accurate, and supporting end users. Eventually improving the user experiences with your business and customer retention. 
Help desk outsourcing services to an external party can bring a variety of benefits to your business from reducing costs to lightening the load for stressed IT employees. Just let your business operations breathe and streamline the workflow to enhance business efficiency.
Benefits Outsourcing helpdesk Services offer to business
Control IT services cost
Outsourcing IT services enables to minimize the cost of business operations and teams. Thus it helps to make your business more effective. IT outsourcing cost less for in-house projects. If the company doesn't want similar assistance for other projects but requires it for one project. They can hire Outsourcing IT services to manage the operation. It enables to utilization of servers & services from any location.
Find experts assistance
Help desk outsourcing services offer an opportunity to get access to skilled resources. You can get access to resources and expert assistance. So that you can manage the IT department of your organization. Experts to work on the upcoming updated digital solutions and enhance productivity 
Compliance and security
Maintaining the compliance standards of the organization is a challenging task. Have your workstations or server audits? Is your company prepared for the risks?
With additional support or assistance, you can't get better or more productive results. Outsource IT services can enable you to get a complete setup of networks and workforce for managing operations effectively. The security updates, firewall updates, server auditing, etc all tasks are all managed by IT outsourcing services providers. 
Minimize organizational complexities
To manage multiple tasks for an organization, you might encounter complexities. Helpdesk outsourcing can assist you to manage multi-tasks, streamlining the workflow process, and coordinating with teams located anywhere. 
Improve effectiveness easily
To manage to organize tasks, service providers know how to manage business operations and make them run more efficiently. IT outsourcing services can help you to redesign the workflow, automate operations, upgrade software, manage server updates and ensure the team is coordinating well. This keeps up the business ahead of the competitors.
Experts and experience
The organization can get the assistance team and experts' support to accomplish the projects within the given timelines. This makes the process more organized and makes sure the project is completed within the timeline. It saves money and time too. Outsourcing IT services can help the organization to organize the workflow and manage it efficiently. To make the organization do good work outsourced IT services can make it happen. The team is there to assist you till the project is completed.
Faster development performance
To make the work smoother and streamline the work process. The complete the work early one way is to split it into functional tasks and assign them to dedicated personnel. Helpdesk Outsourcing services allows to accomplish the operations, the role of a project manager is to give work to the teammates that live remotely, and the best experts to solve IT issues on time. To make this happen and reach the goals on time, this is where IT outsourcing services can work around the clock for your organization. 
Ability to focus on business goals
Make the usage of the resources skillfully for getting the best results. But the question here is how we use those resources to get maximum profits. This is often the major business goal. IT outsourcing services allow you to focus on the business goals and offer dedicated assistance to accomplish the task.
Service Desk Integrations
We offer a durable set of integrations with the leading systems. Allow you to create a seamless support process. We also provide open API and Professional services to help you create custom integrations.
Documentation
Documentation includes each stage of outsourcing services. The documents like deliverables, revisions, changes in the project plan, updates, payables, etc. Outsourcing IT services keeps the track of the progress from the first day and provides information for the project contract in detail. Progress. Other documents include emails, meeting notes, bugs, submissions, events, status management, and more. Get an analysis of what was done on the project and when it is performed and its documentation.
Tools and scripts:
 Our team helps to create, and organize any number of pre-build scripts and this helps you automate regular diagnostics, remediation, and troubleshooting
Tools and scripts
Competitive
Regardless of the size of your business, what is important is how your business is performing using the resources. However, IT outsourcing enables you to have the expertise, equipment, and more. The main aim is to make the company perfume the best and clients experience the best customer support.
Tools and scripts:
 Our team helps to create, and organize any number of pre-built tools and scenarios and this helps you automate operations and troubleshoot
Technology is the main pillar that supports your business and makes the business operations simple and approachable. However, without technology support. For productive, cost-efficient, flexible, efficient support for your business. IT outsourcing services can help you achieve it.